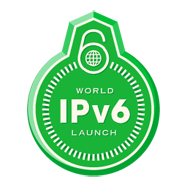 In case it passed you by, today was World IPv6 Day. In a nutshell: "Major Internet service providers (ISPs), home networking equipment manufacturers, and web companies around the world are coming together to permanently enable IPv6 for their products and services by 6 June 2012." This includes top content providers such as Facebook (see under their hood), Google (read what they had to say), Yahoo! and Microsoft. In fact, you may not even have noticed but Google were advertising it front and centre on their search page:

Over at INEX, we were unable to pull out IPv6 traffic statistics on the exchange until recently and my colleague just got the first pass of that project complete this week in time for World IPv6 Day. Here's how it looked over the hours leading up to and into World IPv6 Day:

Now, the peek of almost 40Mbps is, most assuredly, small compared to the overall peek of 24Gbps, but there is a very pronounced jump in IPv6 traffic which is certainly a good sign and a move in the right direction. The overall peering statistics at INEX are public and we'll be breaking out IPv4 and IPv6 into separate graphs shortly also.
Why does IPv6 amount to < 0.2% of the traffic at the exchange? Well there are two main factors:
Until today, there has been very little mass or popular content available over IPv6. So, even if you were IPv6 enabled, there was very little for you access.
None of the large ISPs in Ireland are providing IPv6 connectivity to end users outside of certain closed test programs.
This is the classic chicken and egg problem: with no content available the ISPs were not motivated to provide IPv6 connectivity; and, conversely, with no IPv6 enabled eyeballs the content providers were not motivated to make their services available over IPv6.
While today was not necessarily a content provider only day, I'm unaware of any Irish ISPs that got involved. But, now that we have significant content available over IPv6, hopefully the ISPs will begin to ramp up their own programs. And – to be fair – it's not all bad news with the ISPs in Ireland. Most have their core and edge networks IPv6 enabled, it's the access layer that's the issue (and it's a really really big issue and a very difficult issue).
AMS-IX (the Amsterdam Internet Exchange) is in the top three IXPs in the world by traffic volume and they also make their IPv6 statistics public. As a second demonstration of traffic levels on World IPv6 Day, here is the week to date showing a huge differential for today: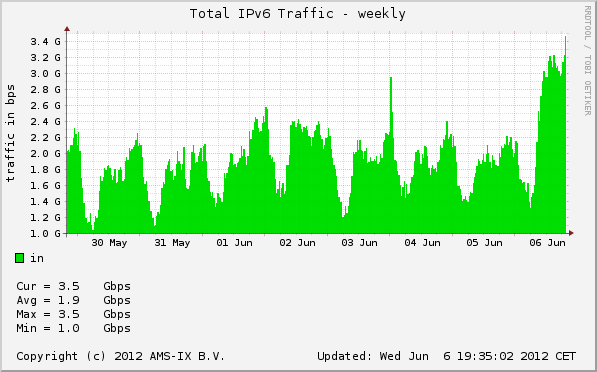 If you're not sure what all this is about, well then here are a few words from the creator of the Internet himself:
And if you're keen to start experimenting with IPv6, first email and ask your ISP. They'll say no, but do it anyway! Then head over to SixXS (and be sure to choose either HEAnet or Digiweb as your PoP as both are INEX members and as such you'll have the lowest possible latency).