I gave a talk on migrating legacy web applications to Laravel at last year's Laravel Live UK conference in London. Those that rated it gave it high marks which is always brilliant feedback to receive.
2018 was Laravel Live UK's inaugural conference and it was a packed house. They've just announced the dates for 2019 and I would strongly recommend attending for anyone using or interested in use Laravel.
Following the conference, I wrote up the talk as an article and it has just been published in the March 2019 edition of php[architect]. This is an excellent magazine which I've subscribed to for a few years now – the digital edition is very reasonable and comes as a DRM-free PDF onto an app on your phone/pad or downloaded to your computer.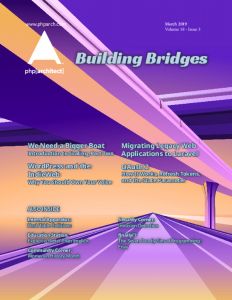 As it happens, they chose this article as the teaser for this issue and so it is freely available online here and downloadable as a PDF here. But seriously, if you are a PHP developer, you need to subscribe to this magazine.
Lastly, if you are interested in the slide deck from the conference, you can download them here – but the article is a much better way to understand this material.