A review of our recent trip to Dubai ('our' being myself, my wife and our daughter Emily – 5yo). Now, I'll be honest, Dubai was not high on my hit list of places to visit – mainly due to a roaring sun and many preconceptions (mostly proven wrong). However, my brother-in-law has been living and working there for the past year so the trip became inevitable. If you want to skip the review, I can sum it up as follows: I'd go back in a heartbeat.
The flight out with Emirates was perfectly timed: departing Dublin T2 on Monday evening at 20:20 for a 7 hours 30 minutes flight and landing, with a +4 hour time difference, at 07:50 local time. I was never going to sleep much on this but Emily slept almost the entire way and Cherrie nabbed 40 winks.
Tuesday
Arrival into Dubai International Airport (DXB) T3 was easy. There was a Costa coffee outlet in baggage claim and immigration was painless (no visa required for Irish passport holders on a holiday). We knew taxis were cheap but, having time to kill while hoping for an early check-in, we decided to take the metro. We knew our hotel, the Conrad, was situated near World Trade Centre stop but, as it turned out, it's right at the stop.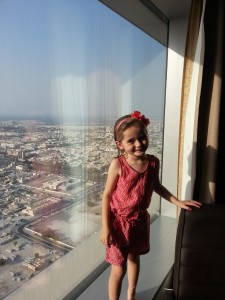 This convenience sold us on the metro for the week. We picked up two Nol cards (translates as fare cards – equivalent to Leap cards) and loaded them up with 40 dirhams each (~€8.80). We took 2 – 3 return metro trips a day from Tuesday to Saturday and didn't need to top them up again. Great value and very convenient. But also one of the best ways to get a real sense of the people of Dubai.
Some quick facts: Dubai is both the name of the emirate and the city. It has a population of ~2m which has doubled in 10 years. Only 15% are Emirati nationals, the rest are expatriates and about 85% of those are Asian.
We arrived into the hotel at 9AM and, thankfully, they had a room available on the 46th floor – the top floor! We unpacked, washed the stench of travel off, refreshed and headed back out. The plan was to meet Cherrie's brother Conor later that afternoon and plan the week. We decided Dubai Mall was an easy target being only four metro stops away.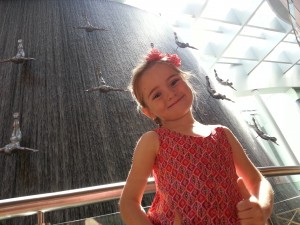 Dubai Mall will be on everyone's todo list – it's situated next to the tallest building in the world – the Burj Khalifa. At this point it's important to mention that Emily was extraordinary every day in the kilometres of walking she had to do without complaining. We pretty much metro'd and walked wherever we could. Arriving at the Dubai Mall metro stop, you have to walk 1.7Km along a huge enclosed and air conditioned gangway to reach the mall. The entrance is a geeks delight – about 10 electronic / gadget / computer stores.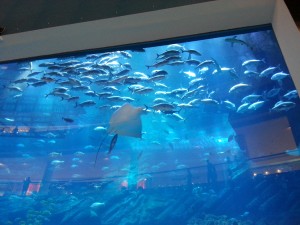 It's impossible to over exaggerate the size and scale of Dubai Mall. It is the world's largest mall based on total area with 1,200 shops. Forget Dundrum Town Centre with its 100 and odd shops! I won't claim we got our bearings but we had a wander around, grabbed lunch in a food court where all of the world's cuisines were available and took in some sights such as the indoor waterfall, the built in aquarium and grabbed some essentials in the Waitrose supermarket.
Then it was back to the hotel to meet Conor (who was working nights this week) and plan an itinerary for the week. Followed by a swim in the hotel pool – a favourite of Emily's and the perfect cool tonic to the heat.
By the evening we were crashing fast. Understandably. Conor guided us to an Irish bar with good food across the road from the hotel. Probably the last place in Dubai I'd have chosen pre-arrival but, after a long day of walking after a sleepless overnight flight, something close, convenient and familiar fit the bill in the moment. McGettigan's served up some good burgers, Guinness but a poor fish'n'chips.
Wednesday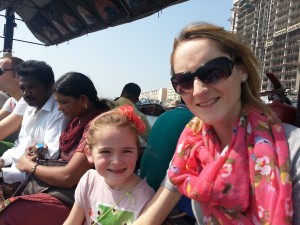 We decided to hit the Dubai City Souks around Deira (Al Ras metro stop) – we didn't get around to the fish market unfortunately but we were enveloped in the aromas of the Spice Souk and the Perfume Souk, marvelled at the Gold Souk and dodged offers of fake handbags and watches in the Covered Souk (that was kept for later!). We then took an abbras (small wooden dhows) – water taxi – across the creek to Bur Dubai Souk.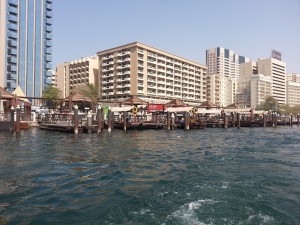 Despite being told that you don't walk anywhere in Dubai before leaving, this was part of the original Dubai with plenty of streets to meander around. There's also lots of small food stalls and – if you don't have hygiene phobias – you'll easily pick up a chicken shawarma for about 50cent.
Back to the hotel then to meet Conor via the Al Ghubaiba metro stop.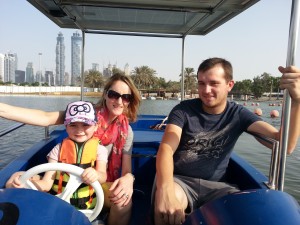 We decided to take a walk around Safa Park with Conor – grab an ice cream and spin around a lake on a boat. It's a 64 hectare urban park with three lakes, over 200 species of birds, and 16,924 different trees and bushes. It's also one of the few places you'll find grass rather than sand.
We finished up Tuesday by heading back to Dubai mall to get our dinner and to check out the famous fountains – set on the 30-acre Burj Khalifa Lake, the fountain shoots water jets as high as 150 metres, equivalent to that of a 50-storey building. The fountain is 275 metres long and has five circles of varying sizes and two central arcs. It has been designed by California-based WET, the creators of the Fountains of Bellagio in Las Vegas.
We found a nice Italian but no alcohol on sale here. You can get a drink, just mainly in hotels and other licensed places.
Thursday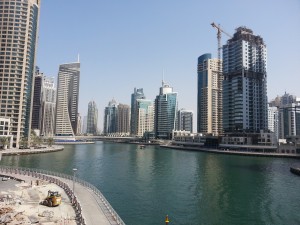 After two days on the Northern end of the city, we decided to head south to Jumeirah via the Dubai Marina metro stop (which interestingly, for me, brought us past Dubai Internet City). There's a lovely marina here but the more interesting walk is to head towards Jumeirah Open Beach and Walk – a couple of kilometres of a pedestrianised zone of boutique shops, cafes and beach. The heat at this time of year is not unbearable but a Starbucks Frappuccino has never tasted so good! Back to the hotel for lunch and a quick dip to cool off.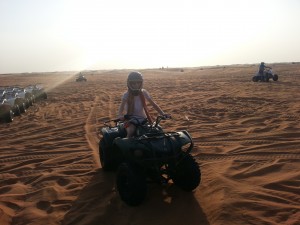 The afternoon heralded a complete change of scenery as our guide, Umar, collected us in his Land Rover jeep for a desert safari (with two others). This took us out of Dubai – which quickly changed from metropolis to desert – for about 6 hours. Our first stop was quad biking which was exhilarating – dune bashing at speed over and into sand dunes. Emily even got a spin on the quad around the flatter areas.
Little did we realise that after a bit of dune bashing on a quad, we were about to do it for real. These images look pretty tame compared to our experience. Umar was taking no prisoners and Emily – who enjoyed the first five minutes – turned quickly grey while breaking out in a cold sweat for the next ten minutes. I'd be lying if I said I didn't sweat a bit myself as I glanced parts of cars left behind whizzing past the window!
After some photo ops in the dessert, we were brought to a dessert campsite for a traditional dinner, belly dancing, camel rides, henna tattoos and more.
Friday (Holy Day – our Sunday)
We kicked the morning off with a water taxi from Al Ghubaiba on one end of the the city to Dubai Mall Marina on the other. We taxi'd to Al Ghubaiba when we realised the Metro doesn't kick off until 1PM. Taxis, by the way, are also very cheap. The boat ride took about 1 hour 30 minutes and gave a fantastic view of all of Dubai from the see as well as the (incomplete) The World, the Burj Al Arab and Jumeirah Palm.
A quick bit of shopping in our destination – the much more manageable Dubai Mall Marina – with a spot of brunch and then the metro back to the hotel. The afternoon was spent with Conor in a suburb known for its vast quantities of high quality but fake handbags and watches. The girls wrapped up their Christmas shopping here.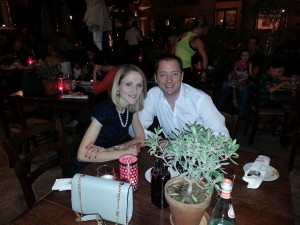 Conor and his girlfriend Laura took Emily home for the night leaving myself and Cherrie to head out 'properly'. Conor directed us to Madinat Jumeirah – a hotel resort – which reminded me a lot of the Venetian in Las Vegas. We had a lovely meal here (take your pick of many restaurants) and, importantly, a bottle of wine!
We taxi'd from there to the Burj Kahilfa where our destination was At.Mosphere on the 122 floor. A bar with some lovely looking tapas – alas my food quota had been reached. We may have thought we were high on the 46th floor of the hotel, but 122 floors up is something entirely different. And that was only just over half way up the building. There's no entry fee but a minimum spend of 300 dirhams per person applies (~€65). This is easy to reach with about 3 – 4 drinks each. Reservations aren't required but I'd strongly recommend it. This place is at it's best if you can ring ahead to get a window seat looking down on the city.
Saturday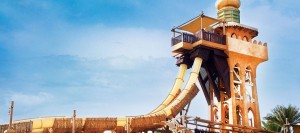 Conor, Laura and Emily collected us Saturday morning to head to Wild Wadi Waterpark. Conor's residency card got us a good 40% discount on the expensive headline rates but it's well worth the cost – even if you're just a party of adults. We spent a good few hours here enjoying the slow streams to being scared witless on the Jumeirah Sceirah.
One question was also answered here – what do women who normally wear a Hijab do in a place like Wild Wadi? Well, they wear a burqini. A swimsuit equivalent of the Hijab. Dubai is very much a melting pot of cultures and we had no issues anywhere we went in terms of culture or clothing. Cherrie, Laura and many other non-Islamic girls in their bikinis co-mingled without issue / stares / comment with Islamic women in their burqini's. There just was no issue here. I, however, will confess to being somewhat jealous of the burqini from a purely sun protection point of view!
The evening was spent with a return trip to Dubai mall for a last supper with Conor and Laura and a final spot of shopping.
Then early to bed for a 4AM rise to get to the airport for the trip home.
Notes / Comments / Takeaways
We all loved Dubai and would happily go back. We wouldn't want to live our lives there but would happily spend a few years working there (under a different life path!).
Forget whatever you've been told about dress code / covering up. We saw all fashion types form skimpy to Nijab co-exist in all places we visited. Don't assume that that extends outside Dubai though.
Also forget the rumours of the UAE's big firewall blocking access to (or download of) social media apps. One of their biggest mobile companies were running an offer of unlimited social data for x dirham a month where two of the four sample apps were Facebook and Twitter. Both of which seem to be in widespread usage there.
If you dash for the metro and, after catching your breath, look around and notice a lot of women looking at you with a smirk on their faces with no other men in sight, you're most likely in the women and children only carriage. You won't be arrested for this! And don't worry, you'll find women and children in all carriages, this is just for those who prefer to travel without men under whatever traditions / beliefs they have.
We booked the flights and hotel as a package via Expedia. We stayed in the Conrad Dubai but, with the way we travelled, any hotel near a metro would have been fine.