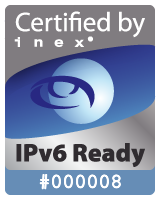 Over in INEX, we just launched a new initiative to promote and increase awareness of IPv6 among content owners and businesses generating revenue from an online presence.
This project is called IPv6 Ready and it is essential a certification program for websites that are IPv6 ready to one of two standards:
Gold: The website has a AAAA (IPv6) DNS record; and
Platinum: At least one of the websites DNS name servers is additionally IPv6 enabled.
For those websites that are not IPv6 enabled (and in many cases this is dependent on a third party hosting company), we also have a very cool IPv6 Pending badge which you can use to let your customers know that you are IPv6 aware.
The badges shown here are the large versions but we also have an extra large, medium and small so you'll find an appropriate one for your site.
How do you get your badges? Easy, just head over to IPv6Ready.ie and register your site. Once you complete the simple process, you'll be emailed all four personalised badges!
Help us make this a success! Please repost, blog, tweet and spread the word any way you can to help us raise awareness and push IPv6 forward – even just a little. If nothing else, please register and display a badge! You'll also get a link such as this to your own certificate!